Regular price
Sale price
$25.97
Unit price
per
Sale
Sold out
Healthy Living Guide will take you through daily exercising and eating practices that are a key foundation to healthy living.
Take care of your body and it will help you to take care of your soul.

Share
View full details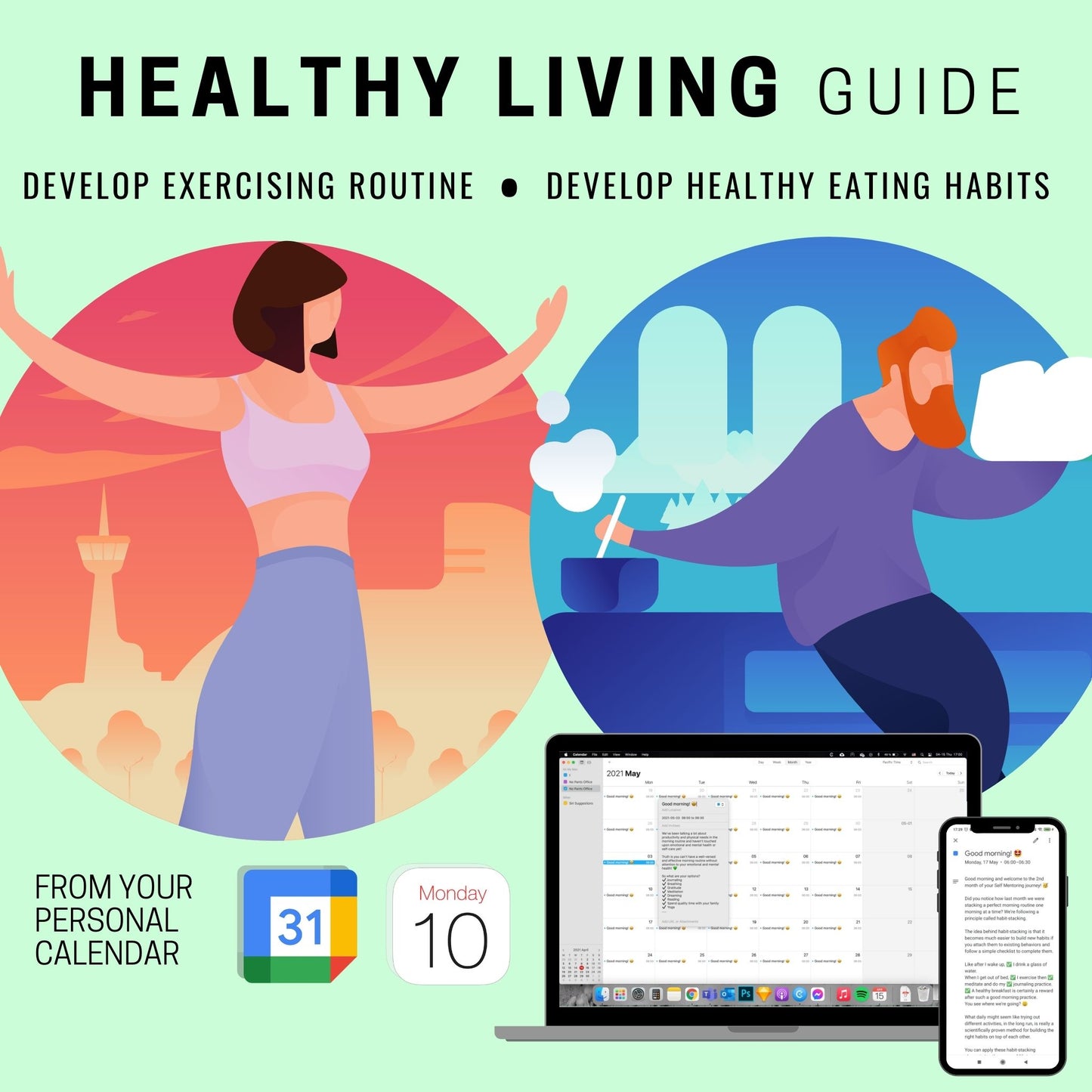 I've not come across a better self-mentoring guide than No Pants Office. I keep coming back and always find something new.
All you need to know about Healthy Living Guide
About Healthy Living Guide

Take care of your body and it will help you take care of soul with the Healthy Living Guide.

This comprehensive guide will take you through daily exercising and eating practices that are the foundation of healthy living. Even if you know the theory, living healthy can take a lot of effort and planning - let the Healthy Living Guide make it easier for you.
Who should choose

The Healthy Living Guide is suitable for those who wants to get into exercising and eating healthy, but may struggle to find the time or motivation to do so. It is particularly helpful for individuals who have busy lifestyles and have tried other approaches to healthy living without success.
What you'll cover

With the Healthy Living Guide, you will cover a variety of topics and techniques related to healthy living, all with the aim of helping you create a plan that works for your busy lifestyle. This will include:

* Tips for planning and preparing healthy meals quickly and efficiently
* Strategies for fitting exercise into your schedule and finding activities you enjoy
* Ideas for incorporating healthy habits into your daily routine in a way that is sustainable and achievable
* Healthy receipts
* Exercises that range from jogging and workouts to yoga and stretching
* Techniques for tracking your progress and setting healthy living goals that are realistic and achievable
* Recommendations for finding support and encouragement from others to help you stay on track.
What you can expect to achieve

By using the Healthy Living Guide, you can expect to:

1. Develop healthy habits that fit into your busy schedule
2. Gain a better understanding of food and its role in your life
3. Reduce food waste and make more mindful choices about what you eat
4. Start exercising regularly and find activities that work for you
5. Improve your overall well-being and physical condition in a sustainable and achievable way.

How it works
1. Pick times for daily reminders

After purchase select at what time of the day you'd like to receive the daily reminders.

It's very important that the guide fits your personal schedule.

2. Upload the calendar file to your personal calendar

Guides and Challenges lives in your personal calendar.

You will receive a calendar download file (ICS) with instructions on how to upload it to your own calendar (Google, Apple, Outlook, or other).

3. Follow the activities in daily reminders

And watch your mood, productivity, and ultimately life change a day at a time!

Rome wasn't built in a day, so give it a couple of weeks before you start seeing changes in your life.
BOOKS, SCIENTIFIC METHODS, AND THEORIES combined

MORE EFFECTIVE than other personal development methods

MORE HABITUAL & easier to integrate into daily life

CHEAPER than personal development mentors & coaches