Regular price
Sale price
$5.99
Unit price
per
Sale
Sold out
Did you know that most millionaires consider their purchases and where to spend money very seriously?
Share
View full details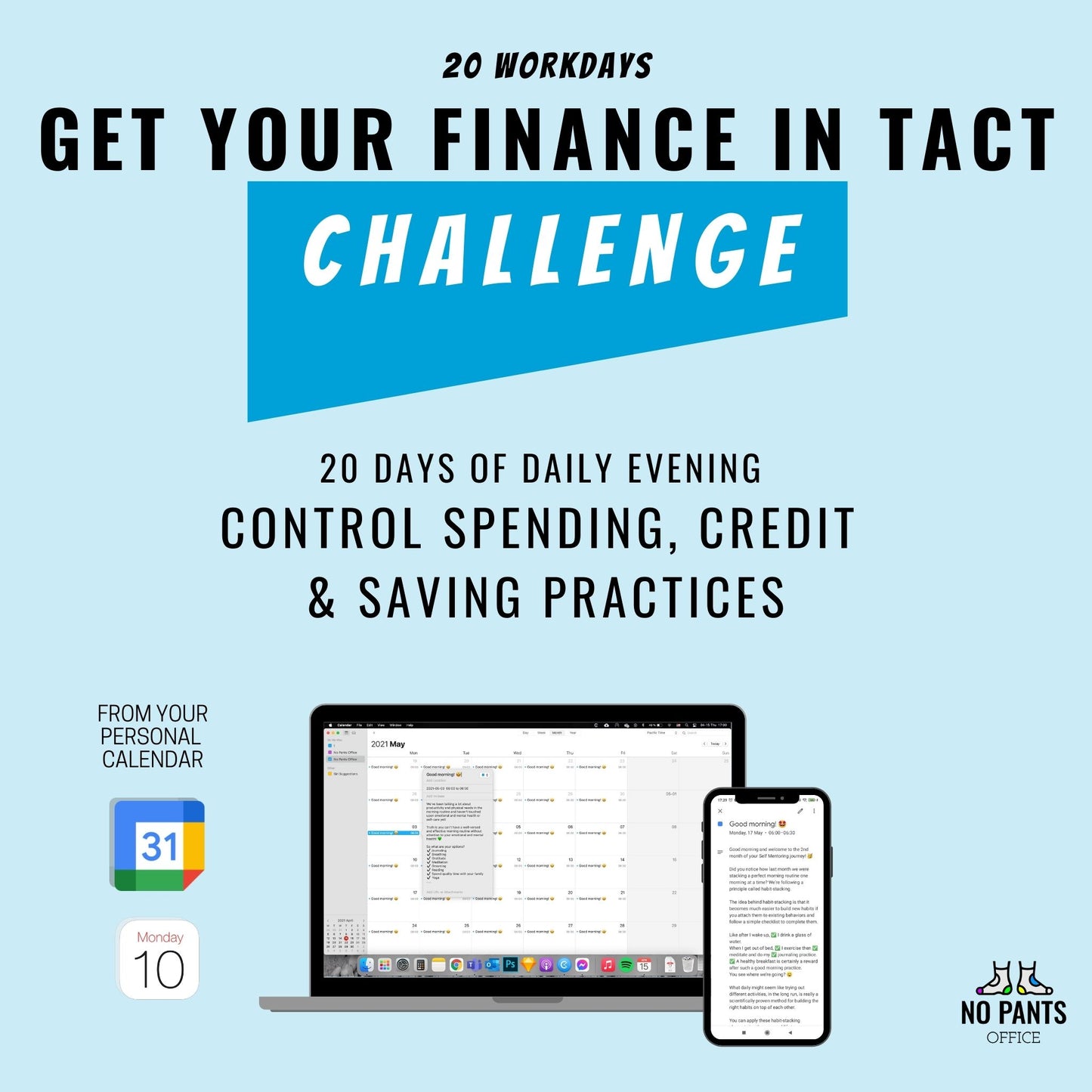 I've not come across a better self-mentoring guide than No Pants Office. I keep coming back and always find something new.
All you need to know about Get Your Finance In Tact Challenge
About Get Your Finance In Tact Challenge

It is scientifically proven that regardless of how much you earn, you will always want to earn 20% more.

So there are 2 ways to go about it - one is obviously to figure out how to earn more, and the second, which we go through in this Get Your Finance In Tact Challenge is how to optimize your current finance.
Who should choose

Anyone who wants to optimize their finance while getting more mindful about spending habits and in general finding out how to manage finance more efficiently.
What you'll cover

Simple daily habits, like getting rid of unnecessary subscriptions, pausing before making online purchases, and setting saving goals, can make your bank account very happy very quickly.
What you can expect to achieve

Take this challenge and in 30 days you will perceive your spending habits in a completely different way.
How it works
1. Pick times for daily reminders

After purchase select at what time of the day you'd like to receive the daily reminders.

It's very important that the guide fits your personal schedule.

2. Upload the calendar file to your personal calendar

Guides and Challenges lives in your personal calendar.

You will receive a calendar download file (ICS) with instructions on how to upload it to your own calendar (Google, Apple, Outlook, or other).

3. Follow the activities in daily reminders

And watch your mood, productivity, and ultimately life change a day at a time!

Rome wasn't built in a day, so give it a couple of weeks before you start seeing changes in your life.
BOOKS, SCIENTIFIC METHODS, AND THEORIES combined

MORE EFFECTIVE than other personal development methods

MORE HABITUAL & easier to integrate into daily life

CHEAPER than personal development mentors & coaches